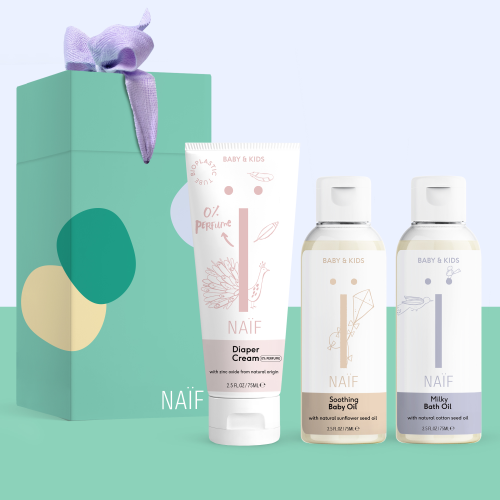 Een goede start: 3 verzorgingsproducten te gebruiken voor een pasgeboren baby. Bevat alle essentials voor de eerste badjes en naverzorging van de gevoelige babyhuid. Wordt gebruikt op de kraamafdeling van 20+ ziekenhuizen. Alvast samengesteld in een leuke geschenkverpakking.
Alles wat je nodig hebt ter verzorging van een pasgeboren baby. Van een eerste babybad, het verschonen van de eerste luier of een babymassage voor bonding en buikkrampjes. De Naïf Newborn Essentials bevatten alle producten om een zorgeloze start mee te geven tijdens de eerste weken van de kleine.
Naif producten zijn gemaakt met natuurlijke en verzorgende ingrediënten zoals avocado olie, katoenzaad en macadamia extract. De producten bevatten geen microplastics, minerale olie, SLES of andere stoffen die we ook niet voor onze eigen kinderen zouden gebruiken. Zo zorgen ze voor je baby, maar ook je baby's baby. 
De Newborn Essentials bevat 3 producten t.w.v €43,85:
Milky Bath Oil 100ml – reinigt en voedt de babyhuid tijdens de eerste badmomenten (zonder 'm glibberig te maken!)

Billencrème 75ml – verkoelt en beschermt de huid bij luieruitslag met extra zinkoxide

Soothing Baby Oil 100ml – zachte olie, verzorgt de huid en houdt 'm soepel. Geschikt voor babymassage"